Design, manufacture and installation of Window Graphics in Nottingham. Based in Daybrook near Arnold.
The Willowbrook in Gedling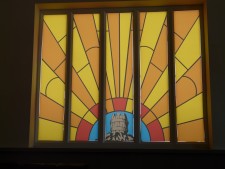 Digitally printed onto translucent vinyl. The image illuminates well but blocks most of the light coming into the room
The Willowbrook in Gedling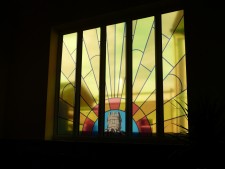 Digitally printed onto clear vinyl. Lets light in the same as a stained glass window would and you can still see outside.
Poppy and Pint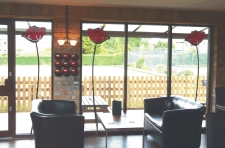 Black and red poppies applied to cafe bar at the Poppy and Pint
in Lady Bay, West Bridgeford, Nottingham.
Stained Glass Effect Vinyl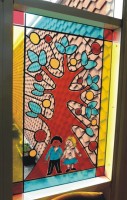 Black vinyl applied and infilled with stained-glass effect vinyls.
Original artwork by Hazel Gill was supplied as an A4 black and white drawing. This was then scanned and digitised to cut out of vinyl.
Etched-Effect, Glass block design
German company Kratzer Automation opened an office in a converted barn near Nottingham.
M Signs provided all the solutions to their sign requirements.
Privacy was required
in the main meeting room looking onto a car park...
Solution...
Etched-effect vinyl applied to the 3 glass panes with the logo on the middle one.
As the building is set back from the road a fairly large sign was required....but not too dominant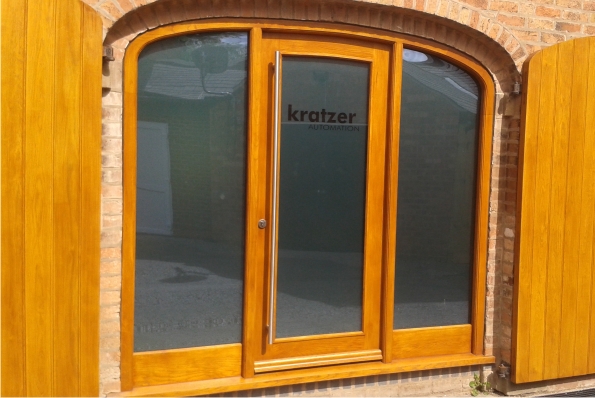 .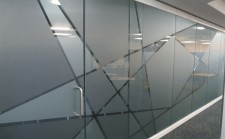 This work was carried out on a folding glass partition at the  Aspire Cafe, Jubilee Campus of Nottingham University.
Two different etched effect vinyls have been applied here with a 20mm clear line between the shapes. The standard TR101 vinyl was applied to one side with a Crystal effect vinyl applied to the reverse side.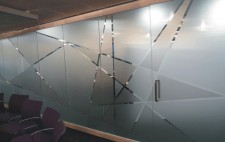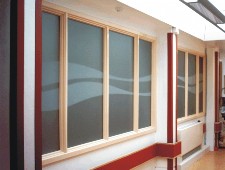 Silver etched-effect vinyl was applied to corridor windowsof the new Birth Centre at Birmingham Q.E. Hospital to hide an adjacent building. A design was then applied in Crystal etched effect vinyl. This flowed down the corridor softening the square windows.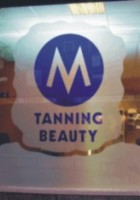 Etched-Effect vinyl applied with translucent blue logo and name. An existing ceiling spotlight was angled toward the blue to illuminate the blue addinng impact to the window display.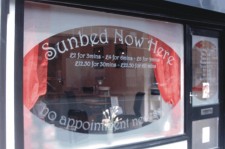 Etched-effect graphics set off beautifully by the customers addition of bright orange curtains.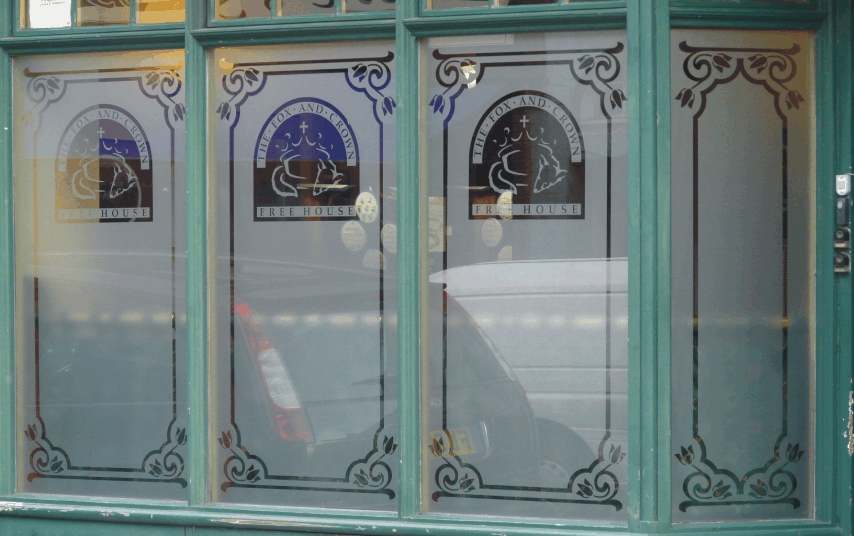 Fox and Crown in Newark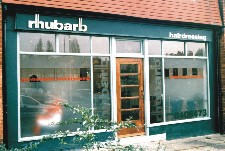 Grey etched-effect vinyl has been used to block out the the main windows with a gap at eye level and red vinyl lettering. The name reads vertically either side of the door. Opening times on door with number above.
Flat-cut acrylic letters installed to green panel with stand-off locators.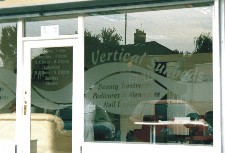 This design for Blushes, is in grey etched-effect vinyl
flowing across the shop front.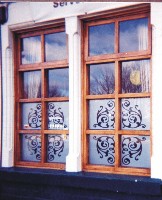 A Decorative design was used at this pub to give the drinkers
and diners a degree of privacy.